Winnaretta
The American-born Winnaretta Singer [1865-1943] was a millionaire at the age of eighteen, due to her inheriting a substantial part of the Singer Sewing Machine fortune. Her 1893 marriage to Prince Edmond de Polignac, an amateur composer, brought her into contact with the most elite strata of French society. After Edmond's death in 1901, she used her fortune to benefit the arts, science, and letters. Her most significant contribution was in the musical domain: in addition to subsidizing individual artists [Boulanger, Haskil, Rubinstein, Horowitz] and organizations [the Ballets Russes, l'Opéra de Paris, l'Orchestre Symphonique de Paris], she made a lifelong project of commissioning new musical works from composers, many of them unknown and struggling, to be performed in her Paris salon. The list of works created as a result is long and extraordinary: Stravinsky's Renard, Satie's Socrate, Falla's El Retablo de Maese Pedro, and Poulenc's Two-Piano and Organ Concertos are among the best-known titles. In addition, her salon was a gathering place for luminaries of French culture such as Proust, Cocteau, Monet, Diaghilev, and Colette.
Many of Proust's memorable evocations of salon culture were born during his attendance at concerts in the Polignac music room. Sylvia Kahan brings to life this eccentic and extravagant lover of the arts, whose influence on the 20th Century world of music and literature remains incalculable.
Childhood
Winnaretta Eugenie Singer was born in Yonkers (New York State) on 8 January 1865. Her father was Isaac Merritt Singer, the American industrialist who perfected the sewing machine. He married a very young French woman, Isabelle Eugenie Boyer.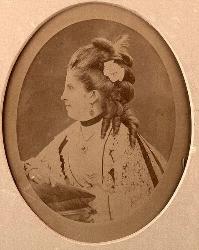 Isabelle Singer
Winnaretta was the twentieth of the twenty-four children sired by Isaac Singer. Although he disavowed the companions who had preceded his marriage to Isabelle Boyer, Singer mentioned all his children in his will, and left everyone a generous bequest.
Winnaretta spent her first two years of life in a mansion called "The Castle," but, in 1867, Isaac Singer, moved to Isabelle's home town of Paris. In 1870, with the Franco-Prussian War approaching, the Singers moved again, to southern England. Singer bought an enormous property in Paignton, South Devon, which he named "The Wigwam." This sumptuous residence of over 100 rooms included every modern convenience and also contained a large theater and a circular space that was used for circus performances.
After Isaac Singer's death in 1875, Isabelle Singer returned with his family to Paris. A family legend says that the beautiful Isabelle was the model of the sculptor Frédéric Bartholdi for the Statue of Liberty.
Winnaretta dressed for the presentation at the British court, 1905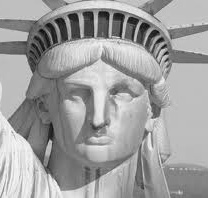 Statue of Liberty- New York
In 1879 Isabelle married Victor Reubsaet, a talented singer and violinist with pretentions of grandeur.
He claimed that there was a ducal title in his family history and, soon after the marriage, the Singer fortune enabled Reubsaet to "rediscover" (that is, buy) the title of Duc of Camposelice. The Camposelices purchased a large mansion on Avenue Kléber. Victor used part of his wife's fortune to amass an extraordinary collection of rare stringed instruments, including the Stradivarius and Guarnarius violins owned by Vieuxtemps. The "grand salon" of the mansion became the center of musical and artistic meetings where the most famous performers were regularly to play string quartets of Beethoven, Mozart and Schubert. Winnaretta shared her mother's passion for music.
According to her memoirs, she received no special training outside her piano lessons, but she attended the many concerts in the family living room. On the occasion of one birthday, she asked for, as a gift, a performance of her favorite piece of Beethoven, the String Quartet in C-sharp minor, op. 131. The late Beethoven quartets were regarded as incomprehensible by most listeners, but already Winnaretta was showing evidence of taste, originality and a deep love for music.
Winnaretta studied painting in the studio of Prix-de-Rome winner Félix Barrias, and was fortunate to spend some time in the studio of Manet. Winnaretta became an accomplished painter, and, later in life, her paintings were often mistaken for those of Manet.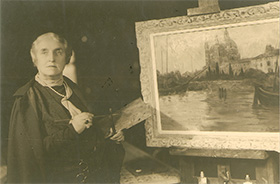 Winnaretta and her painting, Santa Maria dela Salute (Venice,1902)
She spoke French and English, and in 1882, at age 17, she was invited by the Department of the Louvre to participate in the preparation of the catalog in English.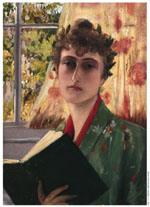 Winnaretta self portrait
But her greatest passion was for music. One of the great pleasures of her youth was spending summers in Normandy, where she met a group of artists and musicians.
At age 15 she developed a deep friendship with Gabriel Fauré, who was then 35. He was the first musician friend; she became his confidante and later his benefactor. In 1882, she accompanied her mother and stepfather to Bayreuth to attend a performance of Parsifal; from that moment on she was a passionate admirer of Wagner's music. For many years thereafter, she returned to Bayreuth, staying at "Schloss-Fantasie".
Marriage and Music
After the settlement of Isaac Singer's will, Winnaretta's inheritance made her a fabulously wealthy young heiress. However, life in her parents' home had become untenable, as her stepfather, the so-called Duc, was prone to violence. The day she turned 21, Winnaretta established her financial independence. She bought a large hôtel at the corner of Avenue Henri-Martin and Rue Cortambert. Realizing that she could not circulate in polite society as a single woman, she married the first man who proposed to her, Prince Louis of Scey Montbéliard. Winnaretta, who had always possessed an independent spirit, was delighted to escape from the guardianship of a domineering mother, but she was not happy in her married life. It was during this period that she probably affirmed to herself her lesbianism. However, it was as the Princesse de Scey-Montbéliard that she established her first musical salon. A large salon was used for orchestral concerts; a smaller atelier was used for painting and for chamber music concerts.
In Winnaretta's music rooms,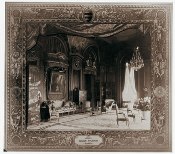 The Music Room at the Hôtel Singer-Polignac, Paris ca. 1912
the younger generation of French composers --Fauré, d'Indy, Chabrier, Chausson, etc. -- were able to find an audience for their works in an atmosphere of refinement and devotion to music-making. In 1888, a performance of Chabrier's opera Gwendoline was performed in Winnaretta's salon, with the hope of convincing the directors of the Paris Opéra to mount a performance. In 1891, shortly after her divorce, Winnaretta refurbished her atelier with a Cavaillé-Coll organ. That same year, she rented a small palazzo on the Grand Canal and invited Fauré to Venice for some badly-needed vacation time. There, the composer began to compose the famous
Cinq Mélodies de Venise
.
On 1 February 1892, the Vatican officially annulled the Scey Montbéliard marriage. At the end of that year, Count Robert de Montesquiou and his beautiful and influential cousin Countess Elisabeth Greffuhle encouraged Winnaretta to remarry and find a respectable position in aristocratic society. The man they chose for her was their friend, Prince Edmond de Polignac, twenty years Winnaretta's senior, a talented but impoverished composer from one of the oldest families in France.
Prince Edmond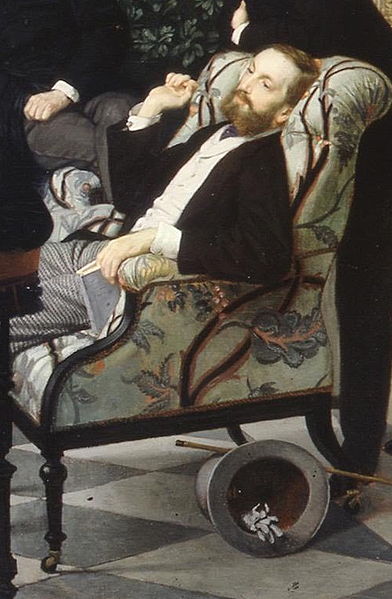 Prince Edmond de Polignac
was also a homosexual, so a union with him offered the possibility of a
mariage blanc
. Amazingly, the two discovered a genuine bond through their mutual love of music, art, and literature. The bond became one of true love. Winnaretta and the Prince de Polignac were married in December 1893.
According to Marcel Proust, who had met the Prince through Montesquiou, both Winnaretta and Edmond had attended the same auction, bidding against each other for a Monet canvas, Champs de tulipes en Hollande. Winnaretta won the painting. Although Prince Edmond was enraged at the time to have been outbid by an American women, he joked later on that "I married the American and could look at the painting as often as I liked."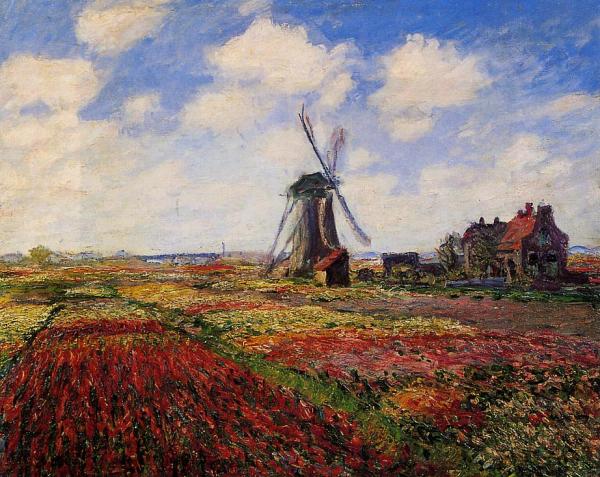 Claude Monet, Champs de Tulipes en Hollande
During their short but happy marriage, the Prince and the Princess de Polignac turned their home into a glorious and vibrant "temple of music."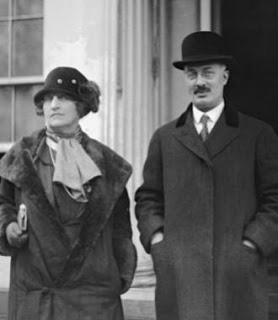 The Polignacs'
soirées musicales
became regular and very popular, and the most illustrious members of Paris's musical, artistic, literary and cultural communities were in regular attendance. Winnaretta also promoted the works of her husband, who, starting in 1879, composed adventurous works using what is today known as the "octatonic scale."
Venice
Early in their marriage, Winnaretta introduced her husband to Venice. Soon Edmond too was bewitched by the seductive calm of the lagoons; he would claim, "Venice is the only city where you can have conver¬sations in front of the open windows without having to raise your voice." During a visit to Venice in 1900, they were invited to lunch by a wealthy American couple, Mr. and Mrs. Daniel Curtis. Cousins of John Singer Sargent, the Curtises lived in the Palazzo Barbaro on the Grand Canal, near the Accademia Bridge. Relaxing on the Curtis's balcony after the meal, Edmond realized that he was sitting directly across from his favorite among all the palaces that lined the Grand Canal, a fine Lombard edifice known as the Palazzo Contarini dal Zaffo. When he saw it from the Curtis's balcony, Edmond spontaneously exclaimed, "Ah! that is the place to live in, and we must manage to get it in one way or another!" Winnaretta was amazed: her husband so infrequently asked for anything at all. It was the week of his birthday, and she decided to buy him the present of a lifetime. The next day she went to see a real estate agent.
After a few months of wrangling, Winnaretta was able to secure the pur¬chase of the palace, which would henceforth be known as the Palazzo Contarini-Polignac.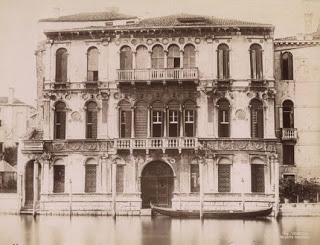 Palazzo Contarini Polignac on the Grand Canal in Venice
The couple took possession in January 1901. Winnaretta's first purchase for the palazzo was a pair of Giandomenico Tiepolo frescoes, Un sacrificio pagano and Un trionfo romano, dating from around 1760 and transferred to canvas. Unfortunately, Prince Edmond, always in frail health, died only eight months after the Polignac took possession of the Palazzo, shortly after his 67th birthday. The princess found herself deeply saddened by the loss of the man who had been her best friend and had played an important role in the world of art and beauty she had created around them.
Winnaretta returned to Venice in February 1902. She spent the afternoon hours sitting on her balcony, painting the Church of the Santa Maria della Salute, whose dome took on the colors of the twilight. She sought a musical venue through which to honor Edmond; eventually, she asked the Duca della Grazia, the owner of the Palazzo Vendramin, Richard Wagner's former residence, if she could use his palace for a memorial concert.
The Duke consented, and Winnaretta arranged to have the Venetian Municipal Band play Siegfried's Funeral March from Wagner's Götter¬dämmerung, in the courtyard underneath the windows of the room where the composer had died. Winnaretta recalled the day in her memoirs:
It was a bright sunny day . . . and the Grand Canal looked its best; all the neighbouring houses had decked their balconies and windows with the brilliant hangings which were usually brought out on great occasions, and many of the best-turned-out gondolas in Venice (belonging to the great patrician families of Venice)—at least a hundred—guided beauti¬ful ladies to the steps of the Vendramin Palace. The Banda Municipale played the Funeral March very creditably, the guests crowding round the windows that looked on to the Cortile, and after the concert there was a buffet in the big central room or sala. I thanked the Duke profusely for all the trouble he had taken to have my wish carried out, and asked him how many years Liszt and Wagner had been his tenants.
He replied: "Oh, quite a long time—for seven years, at least, off and on; they spent many months here." "And did you often see them?" I asked. "Oh, yes, they frequently came up to have coffee with us after dinner." I was much impressed, and added: "And what did they do, and what did they say?" "They sometimes talked about music, or played the piano." "Oh, how marvellous to have known these great men. What a wonderful experience!" The Duke replied, ca¬sually, "Oh yes, they were two characters."
Life in Music
Winnaretta Singer-Polignac spent the rest of her life living for music and, thus, honoring the memory of her beloved husband. In 1904, she renovated her Paris mansion, creating a music room large enough to comfortably accommodate a chamber orchestra and 200 guests. The large living room of 43 Avenue Henri Martin was reserved for major orchestras and renowned artists, while the workshop Cortambert proposed street concerts with organ accompaniment and more intimate musical evenings. Meanwhile, the salon of the Princess de Polignac reflected the thriving artistic activity of his time. A dozen times a year, artists and aristocrats would gather for a sumptuous dinner and then they went into the music room to enjoy a wonderful musical event. The princess became "Tante Winnie" and it was an honor to maintain a level of excellence that her friends were invited to share, not for their social status or wealth, but for their talents or, more importantly, their love for music.
During World War I, Winnaretta began a project of commissioning works by young composers, such as Stravinsky, Poulenc, Satie, Falla, Milhaud, and Weill, among others.
Using the Singer Sewing Machine fortune to promote modern French music, she built up a repertoire of nearly twenty commissioned works, most of which had their first performances in her salons, and which are still in the active repertoire today.
Satie: La mort de Socrate (part I)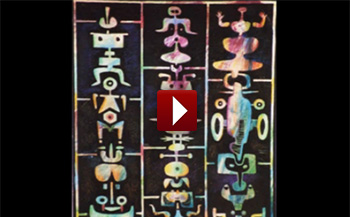 Winnaretta spent a part of every year in Venice, where she welcomed musicians from every corner of Europe. During her long stays during the summer and autumn months, she hosted musical gatherings that became as renowned as those held in her Paris salons. Pianists Clara Haskil and Renata Borgatti and violinist Olga Rudge (Ezra Pound's lover) performed there so frequently that they were practically "house musicians." Diaghilev and Cole Porter were regulars, as were members of Les Six. Arthur Rubinstein spent his honeymoon at the Palazzo Polignac. Toscanini was often in attendance at the musical gatherings; after the concerts, he would go to the kitchen to help prepare the spaghetti. Vladimir Horowitz lived there for a number of years, and he and Winnaretta became close friends.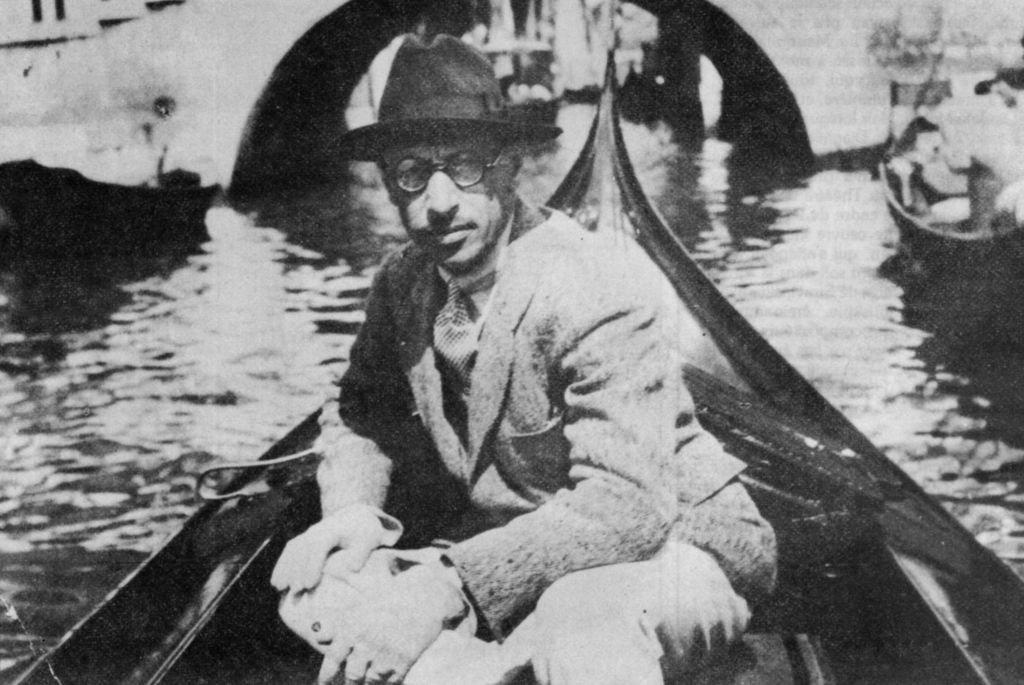 Stravinsky in Venice
Winnaretta was also influential in making sure that the works of French composers whom she patronized were given places in the summer festivals.
She was the honorary president of the International Festival of Music of the 1932 Venice Biennale, and it was thus that Poulenc's Two-Piano Concerto and Falla's El Retablo de Maese Pedro were featured at the Festival. Stravinsky wrote Winnaretta a Piano Sonata as a "thank you" for her support, and that work, too, was premiered in Venice, in 1925.
Falla: El Retablo de Maese Pedro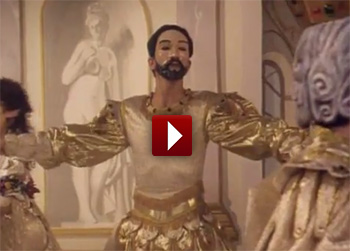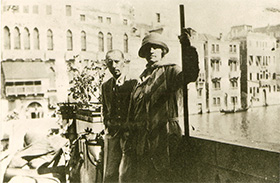 Winnaretta and Igor Stravinsky on the balcony of Palazzo Contarini Polignac
Since Winnaretta was one of Venice's more visible celebrities, this kind of anecdote became grist for the local gossip mill. Sometimes, however, the gossip had a sharper edge. It was reported that Winnaretta had invited to dinner a beautiful Englishwoman, for whom she had a soft spot, without the woman's husband.
The uninvited spouse, upon learning of his wife's whereabouts, arrived at the Palazzo Polignac in a heightened state of jealousy and inebriation. He pushed his way past the servants, entered the dining room, and delivered a furious challenge to his putative rival: "If you are the man you pretend to be, come and fight a duel tomorrow at the Lido!" He was eventually ushered from the room, but not before he had flung the place settings and candlesticks into the Grand Canal. These items were reportedly recovered the next day, but by then, the previous evening's events had already circulated among the purveyors of gossip, providing entertaining material for mischievous tongues.
Legacy
If Winnaretta was the subject of gossip about her private life, it was because she was such an influential patron in public life. Her generosity as a supporter of composers and musicians represented only one small part of her patronage activities. She underwrote the literary activities of the French writers Paul Valéry, Anna de Noailles, and Colette, and, in the pre-World-War I years, created an "Edmond de Polignac Prize", awarded annually to up-and-coming British writers. She supported the scientific work of Edouard Branly, developer of the "télégraphe sans fil". During World War I she worked with Marie Curie to amass a fleet of the limousines belonging to her aristocratic friends and funded the conversion of these vehicles into ambulances that could be driven to the front. Winnaretta was especially active in the domain of public housing in Paris, before this kind of initiative became a concern of local and national governments. She first sponsored the construction of apartments for working-class families in the 13th arrondissement; these low-rent dwellings were equipped with modern appliances and plumbing, and were constructed with attention to light and safety features for children. In the 1920s and 1930s, Winnaretta joined forces with the French branch of the Salvation Army to build or reconstruct existing buildings as shelters for the homeless and for battered and abandoned women with children.
She commissioned modernist architect Le Corbusier – who was, at that point, the "black sheep" of French architecture – to undertake the designs and construction management of these complex projects. In 1928, Winnaretta established the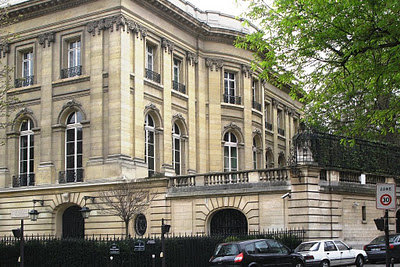 Winnaretta's hôtel particulier at the corner of the avenue Henri- Martin and the rue Cortambert in Paris
Fondation Singer-Polignac, whose goal was the promotion of music, the arts, science, and literature. During Winnaretta's lifetime, the Fondation underwrote archeological digs in Greece and new equipment for Paris scientific laboratories. Today, the Fondation supports colloques on scientific and artistic subjects and features an outstanding series of concerts performed by young Artists-in-Residence. After Winnaretta's death her estate donated a yacht – appropriately named the "Winnaretta Singer" -- to the Oceanographic Museum of Monaco; this vessel was used for research by Captain Cousteau.
Winnaretta Singer-Polignac was in England when World War II broke out in 1939. She never returned to Paris. She was active in England's musical life during the war years, and organized many charitable events that included the talents of her musician friends. Although she thought about emigrating to America, she could never find the courage to get on the airplane and leave her past behind. She died in London on 26 November 1943, in the midst of a fierce bombardment of the city. On the first anniversary of her death, Le Figaro published an article written in memory of the Princess de Polignac, regretting that her death a year earlier occurred during a period in which, "the events and the subjugation of free speech in France made it impossible to speak in a manner befitting the Princesse Edmond de Polignac and the homage she deserves. It is impossible to write the chronicle of the twentieth century without including the salon on Avenue Henri-Martin and the palazzo on the Grand Canal."
Winnaretta Singer, Princesse Edmond de Polignac was one of the most illustrious patrons of all time, and her influence, even to this day, is immeasurable.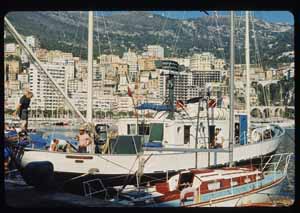 Winnaretta Singer, yacht donated to the Oceanographic museum of Monaco
Finally, upon her death, a number of Winaretta's most cherished paintings from her personal collection – including La Lecture by Manet and Les Dindons by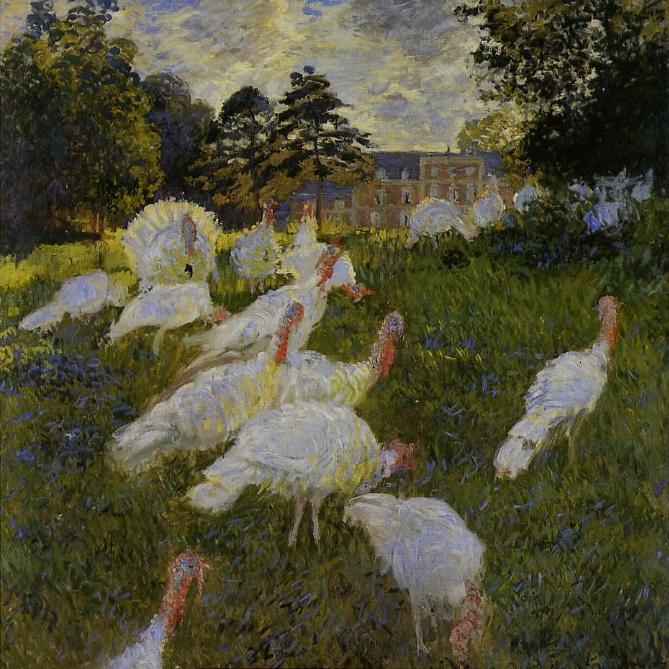 Les Dindons blancs by Claude Monet, acquired by Winnaretta
Monet – were donated to the Louvre, and are now part of the permanent collection of the Musée d'Orsay.
"Music's Modern Muse", Sylvia Kahan
http://www.urpress.com/store/viewItem.asp?idProduct=10505
http://www.boydellandbrewer.com/store/viewItem.asp?idProduct=10505