Introduction
PALAZZO CONTARINI POLIGNAC
Palazzo Contarini Polignac on Dorsoduro was built around the mid fifteenth century in a style that marks the turn from the gothic to the lombardesque Renaissance. Its architect was most probably Giovanni Buora, with a remarkable stone and marble façade decoration on the Grand Canal.
In the mid sixteenth century, it became the property of the Contarini dal Zaffo, a branch of the powerful dogal family, until it was purchased by the Manzoni in 1783 (Domenico Manzoni was a silk merchant); then, during the 19th century, the palazzo changed hands several times.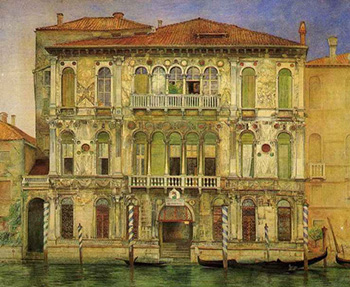 In 1900 it was bought by Winnaretta Singer, daughter of the American inventor Isaac Singer, famous with the sewing machine saga. She, a notorious patron of the arts and sciences, first together with her husband, the composer Edmond de Polignac, hosted most of the better known artists mainly in the musical and graphic fields, among whom : Gabriel Fauré who's portable piano can still be seen in the palazzo, if not played on as once on the lagoon at night, with Reynaldo Hahn singing ; Georges Auric, Nadia Boulanger and her sister Lili, Manuel de Falla, Clara Haskil, Vincent d'Indy, Darius Milhaud, Francis Poulenc, Maurice Ravel, Arthur Rubinstein, Erik Satie, Henri Sauguet, Igor Stravinsky, Germaine Tailleferre , many of whom were commissioned by Winnaretta or dedicated works to her.